Hi, I'm Antje (she/her), LGBTQIA+-affirmative therapist in San Francisco, California, Oregon, Utah, and Virginia.
Your mental health is important. Now more than ever!
I am here for you during the COVID-19 pandemic, the wildfires, and beyond.
I am currently conducting all therapy appointments online by video chat using a mobile, safe, secure, and HIPAA-compliant platform.
Here to help!
How I can help. Do you want to explore LGBTQ+-affirmative therapy offered by a therapist in your community? Are relationship or work difficulties, major illness, life transitions, or trauma keeping you stuck? Do you struggle with long-standing issues such as depression, anxiety and panic, obsessive thoughts, compulsive behaviors, or post-traumatic stress? I would like to help!
My background. I am a Licensed Marriage and Family Therapist in California (#43710), Oregon (#T1897), Utah (#12531263-3902), and Virginia (#0717001591) and a Psychoanalyst member of the International Psychoanalytical Association. I earned my Master's in Social-Clinical Psychology from New College of California in 2004 and completed psychoanalytic training at the Psychoanalytic Institute of Northern California in 2015. In a former lifetime, I earned my Doctorate in Microbiology from Philipps University in Marburg, Germany, completed post-doctoral training at Harvard University, and served as Assistant Professor of Microbiology at the University of California, Berkeley.
LGBTQ+-Affirmative Therapy
My approach to therapy embraces your unique perspective, identity, and culture as the basis for our work together. I am aware that hetero-normative standards do not apply to many people. People with lesbian, gay, bisexual, transgender, queer/questioning, and other sexual and gender identities often live, and experience the world, very differently from straight, cisgender people. I always aim to recognize and understand your unique experience and how it informs and can assist the work we do together.
A safe space. Being a minority and not fitting the mold of mainstream cultural expectations can be fraught with challenges. People in the LGBTQ+ community still face prejudice, discrimination, rejection, and denial of basic rights. Mental-health care itself has a long history of pathologizing and stigmatizing people in our community. Too many LGBTQ+ people struggle with mental-health conditions in silence and face worse outcomes as a result. For this reason, I strive to create a safe space for my clients.
Get support. LGBTQ+-affirmative therapy is especially valuable for those of you who face the double stigma of being a member of a minority community and living with a mental-health condition. LGBTQ+-affirmative therapy offers a unique setting to confront these challenges. I provide safe and non-judgmental support in managing key areas of your life, including relationships with family members and partners, and career. For some clients, the work we do together is life-saving.
Beginning Therapy
How to begin. Whether you are considering therapy for the first time or are a returning client, choosing the right therapist is key. But how do you begin?
Take a chance. Choosing a therapist is similar to deciding to go on a first date. You might feel anxious, hopeful, or ambivalent, but you are also ready to make necessary changes in your life. You don't know the therapist, how she will respond to you, whether she will "get" you, or be able to help you. Although meeting a new therapist may feel like a chance encounter, it opens great potential for positive change and growth.
Be honest. Hundreds of research studies demonstrate that the quality and strength of the collaborative relationship between client and therapist is the most important factor in predicting positive therapy outcomes. In other words, if you can openly talk about the reasons that bring you to therapy, and feel safe, listened to, and understood, you and I are off to a promising start. But even if you don't feel that I am a good "match," you should not hesitate to be honest and let me know. With your feedback, I can help you identify the qualities you are looking for in a therapist and provide you with referrals to other therapists who might be a better fit in terms of style and specialization.
Your unique therapy. I take the time to explore with you how therapy can fit into your life and work best for you. I use my extensive experience and training in psychotherapy to help you identify and address underlying factors that manifest as the symptoms, unwanted patterns of behavior, and obstacles to living life more fully. In short, you are in the driver's seat of your therapy, while I help you navigate the road to greater awareness, growth, and change.
In-Office Therapy
Individuals and families who prefer to meet in person have scheduled sessions at my therapy office in the Pacific Heights neighborhood of San Francisco.
Teletherapy
I am a Licensed Marriage and Family Therapist in California (CA Lic. #43710), Oregon (OR Lic. #T1897), Utah (UT Lic. #12531263-3902), and in Virginia (VA Lic. #0717001591). Individuals and families located in California. Oregon, and Virginia can choose to meet online by video chat. All video appointments are conducted using a mobile, safe, secure, and HIPAA-compliant platform.
Online therapy offers greater flexibility for those who need or prefer it. Whether you juggle busy schedules, navigate physical limitations, or live in a remote location, you can now access my therapy services from the privacy and comfort of your own home.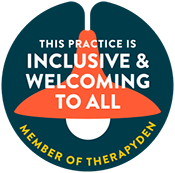 Find out how unique therapy can work for U.